PURSUING THE PEARL
Comprehensive Resource
for Multi-Asian Ministry
by Ken Uyeda Fong


BOOK REVIEW by Russell Yee




Ken's own life and ministry vision

has been carried along this flow. He was raised in a bilingual Chinese-American church; married a Hawaiian of Japanese ancestry; joined a historically-Japanese-American church under a Japanese-American senior pastor; helped the church embrace Americanized Asian American ministry as it brought in more Chinese- and Korean-Americans; and is now forging ahead to a broadly multi-Asian/multi-ethnic future. Throughout the book Ken's use of his own journey and that of Evergreen is highly interesting, instructive, and inspiring.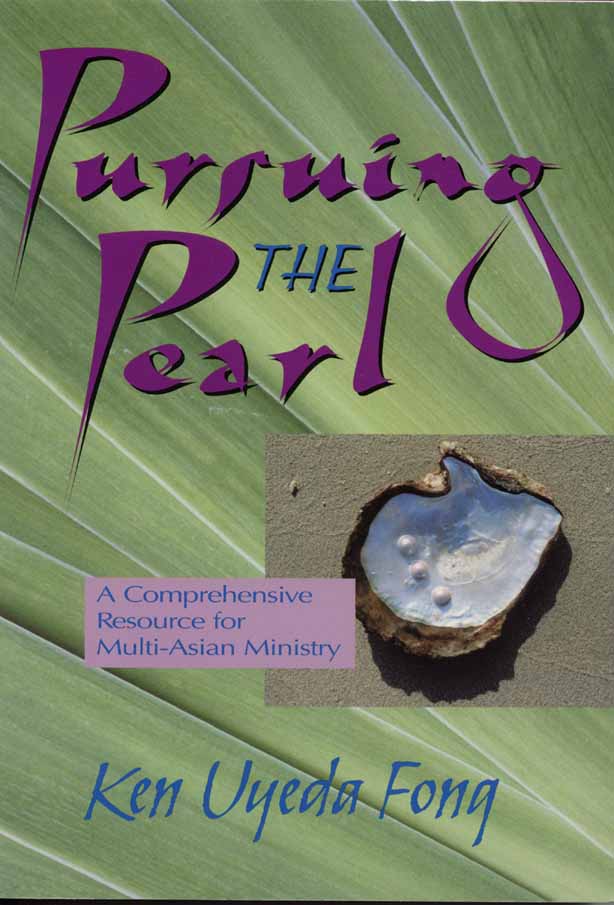 What the flow metaphor wouldn't have predicted is EBCLA's experience in recent years of attracting a large, growing number of 1st-generation folks from across the spectrum of Asian groups. Rather than staying in freshwater enclaves or even transitional estuaries, they jump right into the acculturated saltwater. Perhaps these folks are simply cut out to assimilate quickly. They are the outliers who DO buy into the flow of generations up front, and they have little appetite for backward-looking immigrant enclaves. Perhaps, if I may add to Ken's metaphor, these folks are like seabirds, hatched on land but able to fly freely between all three generations in the flow, and preferring to stay out at sea as much as possible.
Largely because the growing presence of these "seabirds" at EBCLA, Ken now prefers the more broad term "multi-Asian" over "Asian-American" to describe the majority of people at his church. As he points out, this also avoids some of the ambiguity around "Asian-American"--is it a catch-all phrase for all people of Asian ancestry no matter how close or far removed, and no matter how disparate their individual cultures? Or does it describe the particular emergent culture that is blending Asian ancestry with American and world culture to bring about an identifiable tertium quid? Using the full descriptor "multi-Asian/multi-ethnic," EBCLA is attempting to be descriptive about its current make-up and be precise about the particular emergent culture it wants to help develop and embrace.
For this (3rd/4th-gen. ABC) reviewer, the most newly enlightening section was Ken's retelling of the Japanese American story and why it uniquely shapes the JA community to be leaders in the Asian American / multi-Asian / multi-ethnic church movement. For instance, Ken explains that 19th-century Japanese emigration took place during the Meiji Restoration, a time of extraordinary Japanese openness to the west. Contrast this with Chinese xenophobia during the same period and you have one reason (among many) why Japanese-Americans have acculturated to a much larger degree than other Asian groups.
Three themes carried me through the book.
First, WE ARE THE PRODUCT OF MANY CHOICES MADE LONG BEFORE WE CAME ALONG. Ken traces much of EBC's success in recent decades back to a single strategic decision made half a century ago: the decision by LA's Nissei Baptist Church to cut loose its English-language ministry and let it chart its own course under its own name. (Evergreen took its name from the street where the new work was located.) Likewise, for better or worse, so much of each of our ministry settings and we ourselves are the product of choices we did not make. On one hand, this absolves us of feeling responsible for everything in our circumstances--we shouldn't take all the blame for our problems nor all the credit for our successes. On the other hand, this reminds us that choices we make now will affect future generations in untold ways. We shouldn't despair if our ministry doesn't bear the fruit we wish it would right now; maybe God's plan is to use our work for purposes that will not work themselves out until long after we're gone. But that depends to some degree on our ability to make forward-looking choices now.
Second, THE FUTURE IS NOT PREDICTABLE. (Tough to swallow for us high-control types!) The first generation largely does not predict how Americanized its progeny eventually become. EBC did not predict it would "hive" to form EBCLA and EBC-SGV-two churches with now-diverging ministry emphases. EBCLA did not predict it would become as multi-Asian/multi-cultural as it has, nor that it would become a haven for a certain variety of 1st-generation immigrant Asians. Perhaps the lesson here is to generally favor plans that leave an openness to future developments (as Nissei Baptist Church did in the '50s).
Third, THE OPPORTUNITIES FOR ASIAN-AMERICAN / MULTI-ASIAN / MULTI-CULTURAL MINISTRY ARE WIDE OPEN-AND ONLY EXPANDING. But you all knew that already!
CLICK HERE to go to Part 3




Any questions regarding the content, contact Asian American Artistry
site design by Asian American Artistry
Copyright © 1996-2002 - Asian American Artistry - All Rights Reserved.